Learn how to cook Indomie noodles with our indomie Recipe.This indomie recipe is default indomie manual that comes with your noodles packaging. No doubt, Indomie is one of the most popular fast food in Nigeria. Indomie have been able to capture the appetite of most Nigerians with series of good products and of course their often captivating commercials.
How to cook Indomie Noodles: Indomie Recipe
This is the Indomie manual. It is very easy and simple to cook.
Boil water in a saucepan
when it boils,put in the indomie noodles and allow to boil till tender within 3-4 minutes.
Add some instant herb which is inside the package of your Indomie instant noodles
[Optional]You can add you own extra ingredient like egg, cabbage, carrot and green pepper
Creative Indomie Recipe
For more creative folks reading this, we can try this method:
Ingredients

Photo Credit: Wivestownhallconnection
This noodles is packed with all the necessary ingredients that is needed for preparing it but you can add either all or some of the ingredients listed below.
Fresh tomatoes
Onions
Fresh pepper
Fluted pumpkin
Eggs
vegetable oil
Pieces the indomie in a bowl and pour hot water to it, allow for about five minutes for the noodles to get soft.
Set your frying pan on fire, add sliced tomatoes, onions, fresh pepper and fry for about five minutes also.
Sieve the indomie noodles (remove water) then add the follow-come ingredients while still in the bowl, at this point the noodles will be both soft and hot. I like to use one for two just to minimize the sweetness (that is using the ingredient from one sachet to prepare two sachets).
Break the two eggs into the same bowl containing the noodles and stir together, then transfer to the frying pan and finish up with the rest of the preparation process.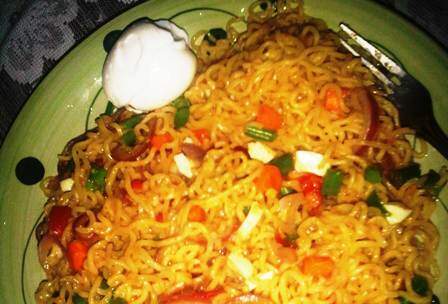 There several other noodle recipes in Nigeria, you can also experiment wildly to create your own recipes, that is one thing I like about making foods.
Continue reading at Allnigerianfoods
Rate this How-to Tutorial
Loading…